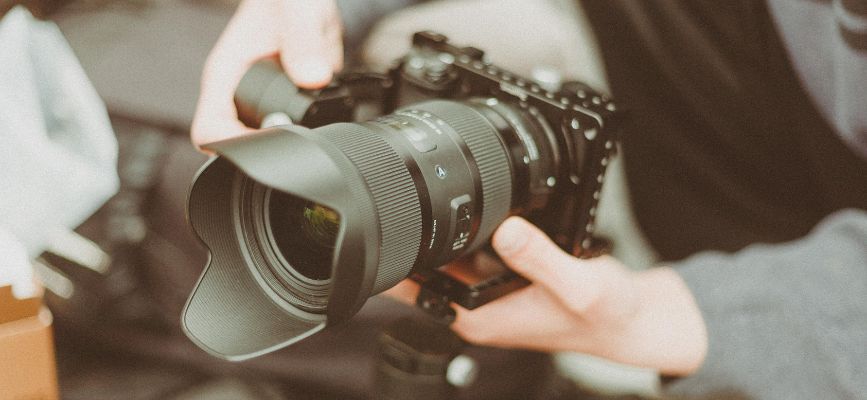 Corporate video: boost your employer brand and recruitment!
The

company presentation video: a tool to help you recruit
Video has become an essential tool for boosting recruitment and reinforcing the employer brand. With the explosion of social networks and the popularity of video-sharing platforms, companies are increasingly using video to attract talent and differentiate themselves from the competition.
In this article, we'll explain how video can boost your recruitment and employer brand in a few key points.
HR video
to

humanize your company
Video is an effective way of presenting your company and its values in a creative and engaging way. You can showcase your premises, your teams, your products and services, as well as the events in which you participate.
Video also helps to humanize and highlight your corporate culture and show what makes your company unique. It gives potential candidates a better understanding of your company and makes it easier for them to project themselves into their future position.
Last but not least, video allows us to differentiate ourselves from the competition by offering attractive and engaging content. Potential candidates often have several job offers to choose from, andvideo can make the difference by offering them a different, more attractive experience. In this way, video helps you stand out from the competition andattract quality potential candidates.
Highlighting

inclusion and diversity through video
Diversity and inclusion are important issues for candidates and current employees, who want to work in an inclusive environment where all voices are heard and respected.
Companies that value diversity and inclusion can attract talented candidates and retain their employees. 
Video can be an effective way of demonstrating a company's commitment to diversity and inclusion. By showcasing employees from different backgrounds or with varied life experiences, video can demonstrate that the company is open to diversity and values differences.
Employee testimonials can also highlight company programs and initiatives to promote diversity and inclusion, such as training to combat unconscious bias or mentoring programs for minority employees.
By demonstrating the company's commitment to diversity and inclusion, the video can help attract candidates looking for an inclusive and diverse work environment. What's more, the video can also help retain current employees by showing that the company is committed to these important issues of our time.
Corporate
video

& storytelling: a powerful recruitment ally
Video is a communication format that can convey emotions and tell stories in a visual and immersive way. For this reason, video is a particularly effective tool for recruiters wishing to convey their values and vision of the company to potential candidates.
Indeed, candidates are not simply looking for a job, but for a company that shares their values and vision of the world. Candidates want to know that their work has a positive impact on society, and that they are working for a company that cares about its environmental, social and societal impact.
Video can convey these values and vision in a more personal and emotional way. By showing the company's employees working on innovative and exciting projects, video can give candidates a more concrete idea of the working environment and corporate culture.
Video can also be used to demonstrate the company's positive impact on society, highlighting corporate social responsibility projects and partnerships with non-profit organizations , for example.
Need
to

recruit for a specific position? Opt for our video job focus!
In addition to the points mentioned above, it's important to stress the importance of business reports to reinforce the employer brand.
Job reports give potential applicants a more concrete idea of thedifferent professions offered by the company, by following an employee through his or her working day. 
These videos offer an immersion into the day-to-day life of an employee, showing the tasks to be performed, the tools used and the various stages in the work process.
Business reports also enable us to gather authentic testimonials from the field, giving us a more realistic view of the business and the company.
These videos are particularly useful for attracting specific talent, or for presenting positions that require special training or advanced technical skills. Candidates can more easily project themselves into the position, and get a clearer idea of what is expected of them. 
Business reports are therefore an ideal complement to other types of video used in recruitment and employer branding.
Example of

an HR video produced for one of our customers
In conclusion, video is an essential tool for companies looking to boost recruitment and strengthen their employer brand. Video allows you to present the company in a creative and engaging way, humanize the company, demonstrate the company's commitment to diversity and inclusion, tell a story and connect with potential candidates on an emotional and personal level. 
Video can also help differentiate from the competition and attract quality potential candidates. All in all, video offers many benefits for companies looking to improve their recruitment process and employer brand, and should be considered a valuable investment for any company wishing to stand out in a competitive market.
Would you like to set up a corporate video project? Find out what we have to offer and contact us or request a free quote!
A videographer by training, I've been diversifying into the web and visual communications in general for several years now. I joined Thibault at Epifyt at the beginning of 2022 to enrich our range of offerings and provide you with even better support in realizing your projects!